FIFA World Cup Sponsorship - how do brands stand out?
The FIFA World Cup Qatar 2022 is one of the biggest sporting events in the world. It evokes emotion on and off the field, as millions watch their countries go head-to-head to be named champions. But with so much attention the challenge to be seen is intense, so how do sponsors ensure their content performs and stands out?
Know your audience
A one size fits all strategy for fans does not work anymore.
37% of global football fans are women and notably the men's FIFA World Cup is the football event which attracts the most interest. 34% of women are interested in the event, significantly higher than the UEFA Euros (21%), UEFA Champions League (20%) and English Premier League (20%) [1]. By speaking to this segment with targeted content and sponsorship, occasional fans could be turned into loyal ones.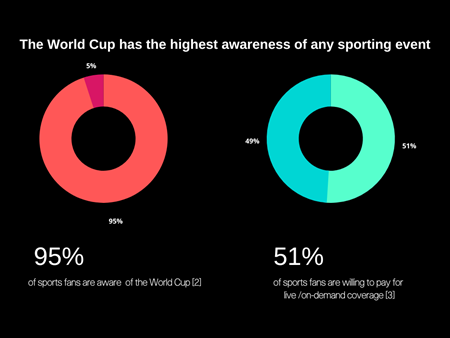 As the first-ever World Cup to fall into the festive season, it creates another interesting content and sponsorship angle. Delivering festive-related video content while capitalising on the hype of the World Cup could help reach new audiences who may not have been engaged before.
The often-discussed Gen Z consumer now demands more from brands in exchange for their engagement; they expect an emotional connection, they need to know the brand's values align with their own and they expect the content to be available wherever and whenever they want it. The importance that fans now place on values and ethics means brands and athletes need to take their audiences on a journey they believe in, providing personalised context and building a strong narrative.
Distribution is king
For football fans who watch sports, free-to-air TV is the most popular option. 62% pay to watch, 72% tune in via social media and 68% view on over-the-top (OTT) streaming devices. This means brands, publishers and platforms can get creative with how they engage audiences across multiple devices [1].
Deeper engagement can be driven through shorter form, secondary content such as highlights, athlete features, and behind-the-scenes exclusives, which perform well before and after the live competition. The brand extends the media lifecycle of their event, reaching more audiences, achieving greater media value, and ultimately increasing the reach of their sport.
It's clear that fans are inundated with choices of platform, device and content, and so, for brands, the distribution strategy is as important as the content itself; there's no point making an award-winning video if no one's watching. Distribution needs to be targeted and multi-platform, with key audience targets and performance metrics.
Story10, a global sports video marketing and distribution agency has the expertise and reach to amplify your Qatar 2022 FIFA World Cup marketing campaigns, putting your messages in front of untapped and engaged audiences in real-time.
Sources
[1] Nielsen. World Football Report 2022
[2] FIFA commissioned study 2019-2022
[3] FIFA commissioned study 2019-2022