The power of sport – connecting and building trust
Sport can be an effective vehicle for brands - it's about building that deeper and more meaningful connection with the audience. Managing Director, James Dobbs, took to the stage last week at PR360 to highlight the 5 key opportunities sport presents.
Passion 
Sport has a head start when it comes to other sectors, as it already has a preexisting, engaged and emotionally connected audience. Sports fans often experience a multitude of emotions prior, during and after a game and it's this passionate emotional mindset that makes audiences more receptive to messaging – brands would do well to fully utilise and build on those connections.  
Sport as an entity is huge, with national leagues, national teams, and individual athletes – each with their own fully committed and diverse audience, ready to be tapped into. With such a wide variety of options, sport can serve any purpose depending on the requirements of the brand, whether that be on a global or hyperlocal scale, or limitations on budget size – it's flexible to a brand's needs.  
However, brands also don't necessarily have to be associated with a particular sport; it's about allowing them to tap into that organic interest. A great example of this is Under Armor, who don't sponsor any of the major sporting events, but instead, use a strategically selected roster of brand ambassadors who have a huge following in a sport or region that is a key consumer base for them.  
Crossover 
Most audiences now engage at the intersection between lifestyle, culture and entertainment and sport provides an incredibly effective gateway to reach a much larger demographic. A great example of this is EA and its partnership with FIFA. The game is fundamentally a video football game, so it appeals firstly to football fans, it also appeals to gamers, but within the game itself they have regularly updated music playlists, which are often number one on Spotify, so EA now have a relationship with music fans, who may have no interest in the game. Fashion designers also come on board to design the FIFA team kits, hitting another demographic that EA wouldn't have easily been able to access as a video game company.  
Another example of a crossover in media is the incredible story of Wrexham AFC being bought by Hollywood stars Ryan Reynolds and Rob McElhenney, this sensational human story about the 'club that could' alongside their Disney+ series Welcome to Wrexham created an emotional connection with audiences globally, reaching untapped fans.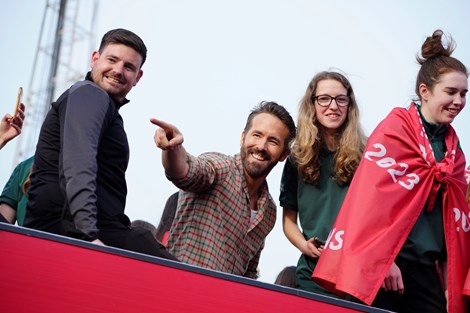 Voice 
One of sports greatest assets is its athletes, a cast of millions with their own unique stories and personalities, who a large majority of the time have a bigger following than the sports they compete in. Research shows that athlete 'advocacy posts' generate 63% more engagement for brands compared to other owned social media content [1]. 
Most athletes are already active in their social channels, advocating for causes that they're passionate about. By partnering with an athlete who already represents values that the brand can identify with, the newly forged relationship will be viewed more authentically, rather than just for commercial benefit. However, what a brand must do is trust its ambassador, allowing them to speak openly and in their own tone, otherwise the relationship can quickly become undermined and inauthentic.  
Marcus Rashford campaigning for free school meals is a good example of this. He was already banging the drum before it 'blew up' in the media. Nike, his principal sponsor, weren't actively promoting this cause, but quietly supported Rashford, as they knew his values were reflected in their own. Now, the goodwill and credibility have, by osmosis, been reflected on Nike.  
Trust 
The cycle of trust is 360 degrees. 
Brands want their audience to trust them, and they need to trust themselves to achieve this by believing in their ambassadors, and then trusting that their consumers will respond and engage with the values they have chosen. 
A great example of this is Colin Kaepernick and Nike. Kaepernick 'took the knee' in 2016 during the playing of the national anthem to call attention to issues of racial inequality in the US. There was huge backlash and pressure on his sponsors to drop him, which Nike resisted. Nike could have kept their head down, but they doubled down and launched a global campaign saying they were fully behind him. Trust and sentiment are now up, but at the time it was a commercial risk. They risked alienating a large part of their consumer base. However, Nike constantly polled their key consumer base throughout that period, so while trust is brilliant, informed trust is better.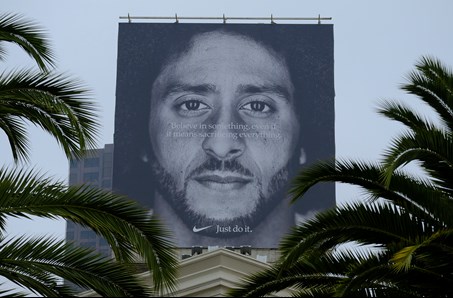 Future 
Women's sport is developing 
Despite the success and interest seen in the last few years, women's sport is still in the early stages of its growth cycle, presenting brands with a huge opportunity. By helping with financial investments and getting involved at the grassroots level, brands can help these sports and federations flourish. In return, brands can place themselves in an incredibly influential position to direct the values of that sport and/or federation. An example of a brand that has done this well is VISA and women's football, by investing on a global and regional level before it became 'trendy' to do so, they are now viewed not only as a sponsor but as a stakeholder, offering their partnership immense credibility, and giving them in return some influence of tone of voice etc. benefiting them in the longer term.  
Compelling human stories
Not everyone loves sport, but everyone loves a human story. Telling stories about sport, away from the field of action frees you up to be creative, focusing on a narrative audiences can relate to and empathise with. Netflix's Drive to Survive encapsulates this. Most of the content in these documentary-style shows is not racing highlights but behind-scenes dramas and relationships, and this is what is driving the huge of growth the sport and subsequently the sponsor brands, providing a whole new touch point with consumers.  
Always on  
Sport offers a continuous stream of opportunities for brands and not just around major events. Away from the field or the next big tournament, there's a vast number of opportunities for brands to activate campaigns, keeping audiences engaged well beyond the final whistle.  
How we can help
Many brands have successfully worked with us to get their message in front of engaged global audiences across a range of sports categories including sailing, golf, soccer, motorsport, and many more. We have helped brands amplify the reach of their campaigns and have seen great results in the form of increased media exposure and social impressions. 
Want to know more about how Story10 can help your brand or PR agency activate more authentically around sports? Get in touch or read more about our services.
Source:
[1] Nielsen. (2021). Sports Fans are Looking to Sports Leagues and Athletes to Support Social Causes. [Online]. https://www.nielsen.com/. Last Updated: 21 June 2021. Available at:  https://www.nielsen.com/insights/2021/sports-fans-are-looking-to-sports-leagues-and-athletes-to-support-social-causes/