The influence of technology on the sports-viewing experience
In an era of constantly evolving trends, technology has transformed the sports industry, fostering stronger connections with its audiences. While the rules of the games have remained unchanged, how they are viewed, consumed, and experienced has undergone a significant shift. Relying solely on traditional methods like television or radio to access live matches is no longer sufficient. Today's audiences demand more, and three key advancements - streaming services, real-time updates, and influencers - have played a pivotal role in reshaping the sports experience.
Streaming Services:
The sports industry has undergone a major transformation due to the widespread availability of high-speed internet connections, smartphones, and smart TVs, which has made live-streaming services more accessible than ever before. Streaming services allow sports fans to watch games on demand and access vast amounts of content including game recaps, behind-the-scenes footage, and interviews. Live streaming services have revolutionised the sports industry, providing unrestricted access to events worldwide previously limited by geographical barriers. This has helped to create a global fan base and enabled these fans to feel connected to their favourite sports teams, regardless of their location.
Based on findings from a Nielsen study, there has been a notable increase in the number of households categorised as 'broadband-only.' In 2022, 80% of sports fans, 76% of NFL fans and 89% of Soccer fans stated they regularly or occasionally watched sports on streaming or online channels [3].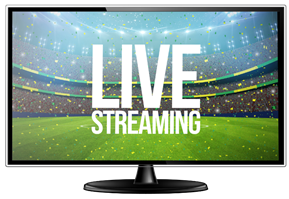 However, streaming services also present their own set of challenges, with some sports fans reporting that it is too costly or difficult to find their favourite sport [5]. Therefore, it is recommended to complement your streaming services with alternative distribution methods to cater to individuals who may face financial constraints preventing them from accessing streaming content.  
Real-

Time Updates:
Social media has become a game-changer in the world of sports. With access to popular platforms like X, Facebook, TikTok and Instagram, fans can stay informed on their favourite teams and players by receiving real-time updates on match results, player transfers, injuries, and more. Consequently, social media has elevated engagement rates among sports enthusiasts, enhancing connections, not only with players and teams, but also with fellow fans who share the same passion. These increased interactions on digital platforms have shaped expectations around live broadcasts, with a recent Nielsen study stating that 55% of Gen Z respondents expect to see and interact with live statistics during a game [4]. Also being able to distribute shoulder content around sports events in real-time and incorporating these pieces into the news agenda helps cover as many touchpoints as possible, broadening the reach beyond dedicated sports fans. 
Influencers:
Influencers are transforming the sports-watching experience by creating personalised and engaging content through social media and digital platforms. They offer niche expertise, interact directly with fans, provide alternative commentary, and host live watch parties, making sports more accessible and relatable.
Sports influencers, including athletes themselves, use their platforms for sponsorships, activism, and athlete empowerment, broadening the way we engage with sports beyond traditional media and fostering a sense of community among fans.
"Influencers are transforming the sports-watching experience" 
Sports leagues have begun to leverage influencers in the hope of increasing reach, as demonstrated by the LaLiga Football Club's "LaLiga Experience" program. This initiative invites prominent influencers to Spain to become streamers, sharing their experiences within the league, including club visits, city explorations, cultural immersions, and live match coverage [1]. In a strategic move to expand its presence in India, LaLiga invited Awez Darbar, a popular Indian influencer with a staggering 30 million Instagram followers, capitalising on his appeal to the Indian youth and creating a mutually beneficial collaboration that offers unique insights into the world of LaLiga to Indian fans and fosters interest in Spanish football [2].
With digital solutions rapidly evolving to enhance the game, sports fans have grown to expect more data, more stats and more access. Streaming services, real-time updates and Influencers have given fans worldwide access to sports events, allowing them to personalise their viewing experiences and connect with other fans. 
How can Story10 drive your brand's success?
Through our unique global distribution network of earned and paid media, including influencer partnerships, we put your content in front of engaged audiences on any platform, in any region, in real-time. Get in touch to see how Story10 can help improve the reach and engagement of your campaigns. 
Source:
[1] LaLiga. (2023). LaLiga Experience. Available at: https://www.laliga.com/en-GB/audiovisual-rights/laligaexperience
[2] LinkedIn. (2023). Connecting People: How Sports Leagues Are Leveraging Influencers To Increase Reach. Last updated: 21 February 2023. Available at: https://www.linkedin.com/pulse/connecting-people-how-sports-leagues-leveraging-influencers/ 
[3] Nielsen. (2023). Live sports are headed to streaming services, and audiences are ready. Last updated: October 2022. Available at: https://www.nielsen.com/insights/2022/live-sports-are-headed-to-streaming-services-and-audiences-are-ready/
[4] Nielsen. (2023). Sports fandom is increasing, powered by new digital platforms, global report finds. Last updated: June 2022. Available at: https://www.nielsen.com/news-center/2022/sports-fandom-is-increasing-powered-by-new-digital-platforms-global-report-finds/
[5] SportsPro. (2023). Study: 60% of sports fans struggle to find or afford content they want to watch. Last updates: 31 October 2023. Available at: https://www.sportspromedia.com/broadcast-ott/ott-and-digital/sports-video-content-survey-fans-media-altman-solon/